Headstring News
U.S. Open: Souquet Escapes
Oct 18, 2011, 8:38 AM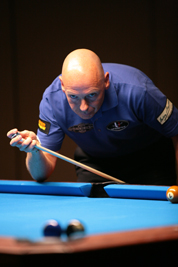 Souquet eyed a spot in the third round, but it wasn't easy. (Photo by Ashi Fachler).
Two days into the 2011 U.S. Open, the biggest stars of the game aren't immune to early-round scares from a few of the lesser-known in the 251-player field. With play beginning Saturday, nearly two full rounds have been played on the winners-side bracket. Headliners among those already dispatched to the one-loss side include last year's runner-up Corey Deuel and recent World Cup of Pool winner Thorsten Hohmann.

Deuel received a bit of an unfortunate draw, facing Lo Li-wen in the opening set. A Tokyo resident who was born in Taiwan, Lo is a world-class player — and he showed that skill in an 11-8 victory over the American. Hohmann, meanwhile, advanced to the second round, where he was upset by North Carolinian Michael Fuller. Fuller, while far from a mainstay among America's elite, does have a strong regional record, so the 11-8 victory was not completely shocking.

Hohmann's teammate in the World Cup, Ralf Souquet, nearly joined the ranks of top-seeded players to lose early in the week. The German, who will be inducted into the BCA Hall of Fame on Thursday evening, escaped an upset bid from Shaun Wilkie in the second set. The 42-year-old, who has been on a tear in recent weeks, eked into the third round by an 11-10 score.

Although the bracket nearly filled to its capacity of 256, a few top Filipinos are conspicuously absent. Francisco Bustamante, Efren Reyes, Dennis Orcollo and Ronnie Alcano did not make the trip. Check back for details on why these elite players are not in Chesapeake, Va.

Billiards Digest will be updating live from the Chesapeake Convention Center from Thursday evening through to the championship set on Saturday, so stay tuned for updates!