Headstring News
Kelly Fisher Wins World 10B
Nov 7, 2011, 2:46 PM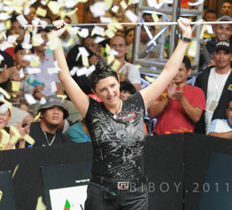 Fisher reveled in her first world title. (Photo courtesy www.my147.com)
Considering much of the talk in women's pool has been about the rising stars emerging out of Asia, Kelly Fisher showed that the established guard wasn't ready to cede power so easily. The 2009 BD Player of the Year and former WPBA No. 1 finished a dominating performance at the World 10-Ball Championship with a 10-4 win over Taiwan's Tsai Pei Chen, winning her first world title.

Tsai looked to be in prime shape to take her first world title, knocking out Rubilen Amit in the quarters and Ga Young Kim of Korea in the semifinal. But Fisher was equally impressive, eliminating Lai Hui Shan of Taiwan and China's Yu Han en route to the final.

In the race-to-10 championship match, Fisher and Tsai split the first half-dozen games. The table was playing tight, and Fisher opted for a controlled break while Tsia used all the power she could muster. Still, neither player had much success on the break, which is common in 10-ball. But Fisher then took full advantage of a miss from Tsai. The Brit took that rack to edge ahead, 4-3, and went on to win the next five games. On the hill 9-3, Fisher allowed her opponent just one more rack before closing out the title, 10-4. Fisher buried the final 10 ball and raised her cue in the air.

"I can't believe that I've finally done it," she said. "It really hasn't hit me yet.

"I've had alot of ups and downs the past couple years, and haven't really won anything. It's frustrating sometimes, but I kept working on my game and trying to get better. And then finally I had a good result last week in China getting to the finals, and then came here and won. It proves you just have to stick with it."