Headstring News
Ready for Mosconi Cup Madness?
Nov 16, 2011, 11:49 AM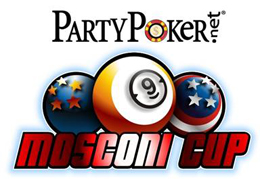 If Team USA expected a boost from holding home field advantage at December's Mosconi Cup, the Americans received a bit of good news on Wednesday. Matchroom Sport announced that the arena, built inside the MGM Grand in Las Vegas, will be expanding to accommodate more rowdy fans.

The original seating plan called for a capacity 395 fans. But in response to growing demand for the competition, set to run Dec. 8-11, the arena will now have a maximum of 500 seats. Tickets are currently available through Ticketmaster (www.ticketmaster.com) and the MGM (www.mgmgrand.com). Prices run from $35 for one-day tickets to $120 for the full four days.

Considering the success of the Mosconi Cup in recent years, highlighted by a thrilling return to London's York Hall in 2010, the increased attention is to be expected. Once dominated by Team USA, the Mosconi Cup has been captured by Europe in three of the last four years. But the Americans will be buoyed by the hometown crowd in Las Vegas, where they cruised to an upset victory in 2009.

Amid the hostile crowds, though, the European squad will not be lacking in experience. Ralf Souquet, making his 15th appearance in the Mosconi Cup, will be joined by Nick van den Berg, Niels Feijen, Darren Appleton and Chris Melling. Only Melling will be a new arrival on the big stage, with the other three boasting a combined 12 appearances.

The Americans will also boast an experienced roster, led by 15-time Team USA member Johnny Archer. He will be joined by Rodney Morris (7 appearances), Shane Van Boening (4), Shawn Putnam (1) and newcomer Mike Dechaine.

For more information, please visit www.matchroomsport.com.