Headstring News
Morra Conquers Derby City Banks Division
Jan 24, 2012, 10:24 AM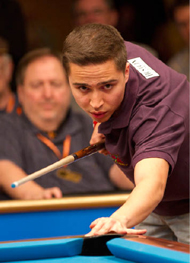 Morra took a decisive second set, 3-1, for his first DCC title. (Photo by Dave Thomson-www.mediumpool.com)
As the saying goes, it's better to be lucky than good. But when John Morra shot his way into the final rounds of the banks division at the 2012 Derby City Classic, he was equal parts of both.

The 22-year-old Canadian remained unbeaten through the first 11 rounds in the 404-player event. Thanks to Derby City's unique buy-back system — a modified double-elimination system where a player can buy back into the event after a first loss — Morra was the only unbeaten player among the final three, joining Shane Van Boening and Brandon Shuff.

That's when Morra caught a bit of good fortune. He received the bye, assuring a spot in the final while Van Boening and Shuff matched up in what effectively a semifinal. Van Boening, who won the one-pocket division last year and the 9-ball title in 2009, ousted Shuff for a shot at Morra.

Knowing he'd have to knock off Morra twice, Van Boening pulled out a hill-hill victory in the first set, 3-2. But Morra, long considered an up-and-coming talent in North America, responded by taking the first game of the decisive second set. In the next rack, though, a bizarre exchange put Morra on the hill. With Van Boening needing just one ball to even the set at a game apiece, the American called a four-rail bank. Van Boening, instead, made the ball off two rails and then proceeded to pick up the cue ball as if he had won the game. Referee Ken Shuman then awarded the rack to Morra, because Van Boening's shot was illegal and his moving the cue ball was unsportsmanlike conduct.

Van Boening responded by winning the next game, 5-2, but that was as close as he would get to winning his third Derby City discipline. Morra fought his way back from a 4-2 disadvantage to win the set, 3-1, and take his first Derby City title.