Headstring News
SVB Triumphs in Valley Forge
Mar 13, 2012, 7:13 AM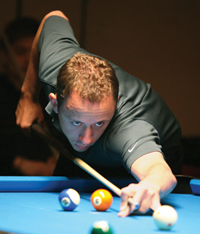 Van Boening took his third Pro Players title with a 13-6 clinching win against Stevie Moore.
OAKS, Pa. -- After a third-round upset loss to journeyman Brian Brekke at the Diamond Open 10-Ball Pro Players Championship, Shane Van Boening would've been excused if he chalked up this visit to Allen Hopkins' Super Billiards Expo as not his trip. After all, the reigning BD Player of the Year might've been due for an early exit. In the wake of a dominant Derby City Classic, where he took 9-ball and one-pocket titles and $53,000 in winnings, Van Boening entered the Pro Players Championship on a roll reminiscent of his run after winning the 2007 U.S. Open.

But settling isn't something the 28-year-old is accustomed to. Plus, he'd won a pair of Pro Players titles, in 2008 and 2010, so he had the track record of success. With a long path ahead of him on the left side of the 68-player bracket, Van Boening quietly progressed into the money rounds. After a 10-5 win over Mosconi Cup teammate Mike Dechaine, though, he was absolutely untouchable. With 10-3 wins over Louis Ulrich and Mike Davis, Van Boening was assured of a top 5 finish.

He only grew stronger in the later rounds, first ousting regional star Ryan McCreesh, 10-2, before dismantling Raj Hundal, 10-2. In the left-side final against Darren Appleton, Van Boening again left a world-class opponent in his dust, posting another 10-2 win that put him in the final.

There, he would again face Stevie Moore, his opponent in the final of the Derby City 9-ball division. In addition to that set, the two also matched up in the final of the 10-ball division of the U.S. Bar Table Championships, with Van Boening taking the title as well. And that trend continued in Valley Forge. Van Boening blitzed Moore by taking the first seven racks in the extended race-to-13 championship. Moore managed to play even for the next dozen racks, getting to six with his opponent on the hill. But it was clear that Van Boening would not be denied his third Pro Players crown, and he closed out an impressive 10-match winning streak, 13-6.

With the win, Van Boening tacked on another $20,000 to his 2012 tournament earnings, already nearing $80,000. Meanwhile, with $7,000 and a second-place finish, Moore appears on the verge of a breakout year, even if his early success has been masked a bit by Van Boening's dominant run.