Headstring News
Grady Mathews, 69, Passes Away
Apr 20, 2012, 12:58 PM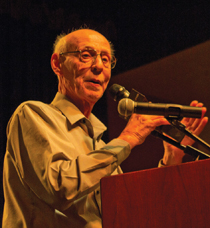 Mathews was honored at the One-Pocket Hall of Fame dinner at this year's Derby City Classic. (Photo by David Thomson)
It'd be tough to find a more fitting nickname in the pool world. It wasn't just that Grady Mathews III had enough knowledge and experience to fill a university library; it was the way he carried himself and the cadence of his voice as he detailed the myriad possibilities in a single one-pocket situation that made "The Professor" so fitting.

Unfortunately, pool lost one of its brightest minds on April 18. Surrounded by family and friends in Lexington, S.C., Mathews passed away after an extended battle with cancer. He was 69 years old.

Picking up a cue for the first time as a teenager in San Mateo, Calif., in the late '50s, Mathews grew up in San Francisco's famed Cochran's Billiards. Among players such as Ronnie Allen, Eddie Taylor and Johnny Vevis, he dropped his day job and began what would prove to be a lifelong love affair with the game. Over the course of the next two decades, Mathews mixed life on the road with a number of pool-related business ventures, including two poolhalls, an amusement center and a tavern. While a dedicated student of the game all the while, Mathews never tried to win a major tournament until the early 1980s. But once he did, the titles followed. An versatile player adept at all the major disciplines, Mathews raised eyebrows with a third-place finish at the 1983 World Open 14.1 Championship. He went on to win the Bush Open 9-ball and River City Open One-Pocket events in 1984.

It was about this time that he added an additional line to his impressive resume: promoter. Organizing a few events in the '80s, Mathews may well be remembered most for his Legends of One-Pocket events in the 1990s. He was also an regular commentator for Accu-Stats Video Productions.

An ardent supporter of the cerebral game, Mathews earned induction into the One Pocket Hall of Fame in 2004. Appropriately, with his health deteriorating earlier this year, the One Pocket HOF honored Mathews at its induction ceremony alongside the Derby City Classic.

Mathews is survived by two children, Marie and Grady IV.