Headstring News
Orcollo Goes Unbeaten at U.S. Open 10-B
May 22, 2012, 7:28 AM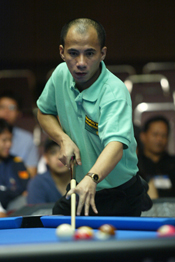 Orcollo captured his fourth major title in the Riviera.
For the vast majority of visitors to Las Vegas, it doesn't take long before a winning streak turns into an aberration. As every touch-luck loser can tell you, spend enough time in a casino and eventually the house wins. But when it comes to Dennis Orcollo, who has been visiting Sin City every spring for the past seven years, his success is founded on something very different than good fortune.

The 33-year-old Filipino superstar had plenty of reason to be confident when rolled into the Riviera Hotel & Casino for the U.S. Open 10-Ball Championships, promoted by CueSports International alongside the group's BCA Pool League National Championships. Since 2007, Orcollo has taken three major titles in the Riviera's main ballroom — first taking the Enjoypool.com 9-Ball Championships, then conquering the 2009 Predator International 10-Ball and 2010 World Pool Masters events.

So it wasn't all that shocking when the player known as "Robocop" around the Manila poolhalls went unbeaten through the 96-player bracket at the U.S. Open. In fact, after an opening match with American young gun Oscar Dominguez that went hill-hill, Orcollo was rarely challenged on his way to the $15,000 title. He strung together sets with ho-hum score lines, including an 11-6 win over Japan's Kenichi Uchigaki, to move into the hot-seat match against Alex Pagulayan. On his way through the bracket, Pagulayan won a pair of nail-biters, taking 9-8 decisions over Max Eberle and Francisco Bustamante, to get within a set of the final.

But Orcollo thumped his countryman, 11-4, to secure his spot in the championship. Facing Bustamante, who dispatched American Mike Dechaine in fourth place, Pagulayan again struggled to find his rhythm. He bowed out in third, 9-7, while Bustamante progressed to the final. Unfortunately for the 2011 BCA Hall of Fame inductee, Bustamante could not keep up with his younger compatriot. Orcollo eased his way to the title with an 11-4 victory.