Headstring News
Fisher Closes Book on WPBA U.S. Open
Jun 11, 2012, 1:10 PM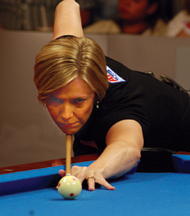 Fisher faced few challenges en route to WPBA victory No. 55.
For the top women in pool, the first half of 2012 offered few chances to chase major international glory. Outside of a January Women's Professional Billiard Association event and the Amway Open two months later, the game's best have been relatively inactive.

So when the WPBA U.S. Open rolled around — held this past weekend at the River Spirit Casino in Tulsa, Okla. — the top-ranked players on the Classic Tour had to deal with a little rust. But defending champion Allison Fisher picked up right where she left off in 2011, as she rolled through the 48-player bracket to win her sixth U.S. Open title.

With play beginning in a double-elimination format, Fisher, who entered the event as the No. 2-ranked player on tour, advanced unbeaten to the eight-player knockout round. She easily strung together four straight wins, never allowing an opponent more than four racks in the race-to-9 sets. Brittany Bryant, Line Kjorsvik and Gerda Hofstatter also advanced through the winners side.

While all four women are among the top 16 players on tour, some tour titans were glaringly absent in Oklahoma. Former titlists Jasmin Ouschan, Ga Young Kim, Xiaoting Pan and Kelly Fisher did not compete in this year's U.S. Open, an obvious result of declining prize money and fewer tournaments each year.

In the quarterfinal round, Fisher and Hofstatter continued their impressive play, ousting Helena Thornfeldt, 7-1, and Mary Rakin, 7-5, respectively. Jeanette Lee, who advanced through the one-loss side, topped Kjorsvik, 7-6, and Monica Webb ousted Bryant, 7-5.

In the semifinals, Fisher erased a 5-2 deficit against Webb to take her spot in the championship, 7-5. Hofstatter had an easier time against Lee, as she won the first four racks en route to a 7-4 win.

The final began in see-saw fashion as the two good friends split the first six racks. But, just as she has countless times in her Hall of Fame career, Fisher saved her best for when it mattered most. She nailed a 3-9 combination and ran the next rack from the break to grab a 5-3 lead. After an early safety battle, Fisher then ran out the next rack from the 2 ball to get on the hill. Again in a defensive struggle, she kicked safe on the 2, after which Hofstatter left Fisher an angle on the blue ball.

Fisher speared the shot and closed out the set, 7-3, for her sixth U.S. Open title.