Headstring News
World 9-Ball Down to Final Four
Jun 29, 2012, 6:39 AM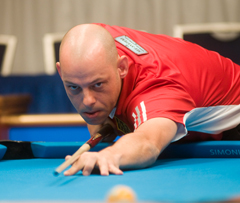 Appleton is two sets from holding both U.S. Open and World 9-Ball titles. (Photo by Thomas Slusser)
(Story by Ted Lerner-WPA)

After a brutally taxing day of championship pool, England's Darren Appleton, Japan's Naoyuki Oi, Germany's Ralf Souquet and China's Li Hewen all made it into the semifinals of the 2012 World 9-ball Championship in Doha, Qatar.

Both semifinals carry the classic story line of east vs. west. In one semifinal, Appleton will face off with Oi. In the other semifinal, Souquet will be take on Li.

The semifinals will be races to 11, alternate-break and will be played concurrently at the Al Sadd Sports Club, beginning at 2 p.m. local time (GMT +3). The final will be an alternate-break race to 13 and will begin at 6 p.m.

The Al Sadd heaved with drama and emotion throughout the long day of play today as the field was cut from 32 players down to four. It was a marathon of hard core pool that when combined with the gravity of the circumstances, seemed to tax each and every player to the core. At times the winners of matches came down to a matter of who had the stamina and will power to withstand the constant pressure. Nobody who was there would argue that the last four men standing earned their spots the hard way and are battle hardened and ready for trench warfare.

Perhaps the most impressive player in the field today, and also the one who seemed to best be able to let the pressure effortlessly slide off him was Japan's Oi. The 29 year old from Osaka is known amongst fellow players as an affable free spirit and he played like it throughout the day. Oi came out and completely steamrolled Taiwan's Chang Jung Lin in the round of 32, 11-3. He then met up with Germany's Thorsten Hohmann in the round of 16 where he came back from an early deficit and glided to the finish line for a well earned 11-9 victory.

A similar scenario happened in Oi's quarterfinal matchup against England's Karl Boyes. Boyes had been developing a head of steam as he had just beaten Taiwan's Fong Pang Chao, 11-8, and then barely squeaked by young German talent Dominique Jentsch, 11-10.

But while the match was close throughout, Oi seemed impervious to any of Boyes' pressure and fought off the Englishman the whole way. Oi never trailed and advanced with a well earned 11-9 victory.

China's Li is perhaps the most unassuming top tier player in the world today. With his bespectacled, urchin-like appearance, he could easily be mistaken for the class nerd. But any attempt to prejudge Li based on looks is done at one's severe peril. This guy can flat out play.

Li first took down Canada's John Morra, 11-8. He then met up with one of the tournament's surprises, Kuwait's Omar Al Shaheen. The Kuwaiti's have made serious advances in pool and the 19 year old Al Shaheen is clearly the face of the new and hungry generation.

Al Shaheen played a fantastic match and had the score even after ten racks. But like all great players, once Li got the lead, he managed to hold on to it by hook or by crook.

Al Shaheen fought furiously and had the backing of the boisterous crowd. But despite some late errors, the Chinese held on for a tight 11-9 win.

Li then met up with the Philippines Antonio Gabica in the quarterfinal. Amazingly, Gabica, who is a coach for the Qatar national team, was the last Filipino left in a field that started with 17 on day 1. Four Pinoys had already been shown the exits by the time Gabica met Li; Dennis Orcollo, Efren Reyes, Lee Van Corteza, and Jundel Mazon.

Gabica had just come off a thriller with Mika Immonen, barely beating the Finn, 11-9. Li, though, looked like a machine in the first half of the match, streaking out to an 8-4, then 9-5 lead. But Gabica used his superbly fluid stroke to crawl back in the match. Li started to wilt under the pressure. Gabica closed the gap to 10-9 but Li broke and ran to book his place in the semis.

Another quarterfinal featured two of the games superb talents in Appleton and Taiwan's Ko Pin Yi. Appleton has been playing well which seems to bring out the best in his opponents. Appleton barely got by one of the tournament's upstarts, New Zealand's Matthew Edwards, 11-10. Appleton then put in another fine performance against Greece's Nick Ekonomopoulos winning 11-8.

Ko had looked positively brilliant all week and he continued his fine run today. In the round of 32, Ko and Japan's Lo Li Wen engaged in what was arguably the highest quality match of the day, with Ko winning by a hair, 11-10. Ko then put a muzzle on the Philippines' Mazon, who had looked strong and steady up to that point.

Against Ko, Appleton displayed championship form early and went up 8-3. But Ko took advantage of two flukes and closed the gap to 10-9. With the pressure and drama thick and heavy, Ko, tried to jump and pot a basic two in the jaws, when the cue ball flew off the table. Game, set, match for Appleton.

"I played perfect to go up 7-2," Appleton said. "I feel good overall because he was the man to beat. He was playing better than anyone."

Although it is surely anyone's game on Friday, Appleton's hunger to create history could spell the difference.

"To hold the U.S. Open and World 9-Ball at the same time would be nice. It would be unbelievable," he said.

In the other quarterfinal, Ralf Souquet went up against the Netherlands' Nick van den Berg. Steady and reliable Souquet had quietly worked his way through the field, first squashing Venezuela's Jonny Martinez, 11- 7, then Italy's Bruno Muratore, 11-4.

Van den Berg was playing the Dutch version of steady and solid, first beating China's Han Hao Xiang, then out maneuvering Orcollo, 11-6.

As expected this match became a total grind. The contest was close throughout, but both players, apparently exhausted, had difficulty deciding on how to proceed on ordinary shots. Over three hours after it began, van den Berg scratched with just the 9-ball left on the table, handing the match to Souquet, 11-9.

"I was drawing a blank," a clearly relieved Souquet said afterward. "My mind was completely gone. I had eaten after the last match and that drained my energy."
Souquet last won the World 9-ball in 1996. Since then he's reached two finals and lost. But when the German legend puts his mind to something, he can never be counted out.

"Yes that's my goal, to win the World 9-Ball Championship again," he said.

The WPA will be providing full up to the minute coverage of the semifinals and finals of 2012 World 9-ball Championship via its website at www.wpapool.com. There you can follow the action through our live scoring platform, articles with insights and analysis, and updated brackets.

Fans can also get updates via the WPA Twitter page, @poolwpa.com, and access live scoring through the official website of the Qatar Billiards and Snooker Federation at www.qbsf.net/en/live_score.php.