Headstring News
Karen Corr Elected to BCA Hall of Fame
Jul 20, 2012, 12:59 PM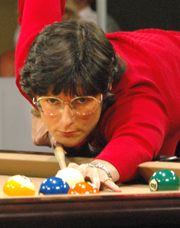 Corr battled Allison Fisher atop the women's game for the better part of a decade.
The United States Billiard Media Association today announced that Karen Corr will be inducted into the Billiard Congress of America Hall of Fame in 2012.

In 1998, when Corr moved to United States and traded snooker for American 9-ball she attacked the Women's Professional Billiard Association Classic Tour with precision shooting and unbreakable concentration. Corr's quick rise to the top and her consistent dominance on American soil has earned her the only spot in this year's BCA Hall of Fame class.

The Northern Ireland born Corr, 42, will be formally inducted into Greatest Player wing of the BCA Hall of Fame on October 26, 2012 during ceremonies at the Holiday Inn in Virginia Beach, VA.

Shortly after winning her fourth world snooker title in 1997, Corr moved to the U.S., switched her game to 9-ball and raced through one WPBA qualifier after another in pursuit of a Classic Tour touring card. After just six months, Corr was ranked 24th in the WPBA, rising to No. 4 in 1999. She captured her first Classic Tour title in 2000, the Cuetec Cues Players Championship. She added two more tour titles in 2000, and then rose to the No. 1 ranking in 2001 with an amazing six titles. In the same year, she also was named Player of the Year (POY) by Pool & Billiard Magazine and Billiards Digest, breaking Allison Fisher's string of five consecutive POY honors.

In her 13 years playing in the U.S., Corr has won 15 Classic Tour titles, four BCA Open titles, three WPBA National Championships and three Tournament of Champions titles. She has won numerous international and regional events and was runner-up twice at the WPA World 9-Ball Championships. Corr also has a Joss Northeast Tour title to her credit and from 2001 through 2008 she was one of the open tour's most successful players.

"It's awesome to be appreciated this way for your skills," Corr said after learning of the honor. "And I want to thank the people who vote for the Hall of Fame."

Corr left the Classic Tour a year ago to be with her terminally ill mother in England. Diane Corr, 71, passed away at the beginning of July in 2012.

"This is a nice way to start my new life," Corr said. "I'm back in the States and pool will be my life again. I've got a bit of catching up to do, but I appreciate the opportunity to make a career in cue sports. Hopefully, I have a few titles left in me."

Voting was conducted by the USBMA Hall of Fame Board, which consists of USBMA members, elected At-Large members and living members of the BCA Hall of Fame. Induction in the Greatest Players category is awarded to the player named on the most ballots. A second player is elected if both players are named on more than 70 percent of the ballots.

After being named on 56 percent of the ballots in 2011, Corr received votes on 65 percent of the ballots in 2012. Jeanette Lee, in her first year on the ballot, received votes on 53 percent of the ballots. Germany's Oliver Ortmann was named on 32 percent of the ballots. Belinda Calhoun, Kim Davenport, Gerda Hofstatter, Mary Kenniston, Rodney Morris and Vivian Villarreal each received votes on less than 25 percent of the ballots. To be eligible for consideration in the Greatest Player category, a player a) must be 40 years old by Jan. 1 of the year of their induction; b) must have a professional playing career of at least 10 years; and c) must have recorded significant achievements in U.S. based events.