Headstring News
Ga Young Tops World 10-B
Aug 24, 2012, 11:42 AM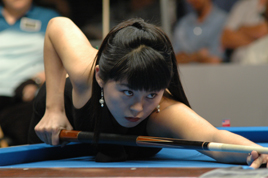 Kim took her first World 10-Ball title in Manila.
Ga Young Kim had had enough with her close calls at the Women's World 10-Ball Championship. She fell to Jasmin Ouschan in the final of the 2010 event. In last year's event, she dropped her semifinal against eventual runner-up Tsai Pei-Chun.

But the third time proved a charm for the Korean superstar. Kim marched through four rounds of single-elimination play to take the 2012 title with a 10-5 win over reigning Player of the Year Chen Siming.

Emerging from the round-robin stage with a 4-1 record, her only loss coming to Ouschan, Kim coasted into the quarterfinal round with two easy victories. There, she took a bit of revenge against her Austrian rival, ousting Ouschan by an 8-5 score. She then topped countrywoman Yu Ram Cha in the semifinal, 9-5.

The final against China's Chen, who has had a remarkably consistent run in the last two years, with a number of top 4 finishes in international events, proved anticlimactic. Kim cruised to the 10-5 win, pocketing the $21,000 top prize.