Headstring News
Bustamante Snags DCC Banks
Jan 30, 2013, 9:00 AM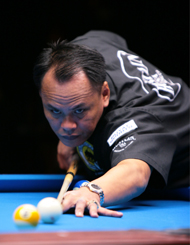 Bustamante took his first DCC division title in banks. (Photo by Ashi Fachler)
Despite winning the 2008 Master of the Table — the Derby City Classic's all-around title for the player who accumulates the most points in the tournament divisions of 9-ball banks, one-pocket and 9-ball — Francisco Bustamante entered 2013 without a single division title. After the opening banks tournament at this year's nine-day jamboree, though, the Hall of Famer can check that box off his to-do list.

The banks division kicked off Friday, Jan. 25, with a total of 353 players, down from 2012's total of 404. Bustamante had no difficulties through the opening rounds, until he ran into Justin Hall in the ninth round. Hall, who won Master of the Table at last year's Derby clone Southern Classic, topped the Filipino, forcing him to exercise his buy-back option in the modified double-elimination format.

Bustamante, though, bounced back by eliminating fellow Filipino Carlo Biado before drawing a bye in the 11th round when just five players remained. Hall eliminated Warren Kiamco and Shannon Murphy ousted Skyler Woodward, leaving just three players alive. Hall then drew the bye, leaving Bustamante facing Murphy, who was still unbeaten and held his buy-back option. Murphy then won the first two racks, putting Bustamante within a game of elimination. But the Filipino fought back with three consecutive games to force Murphy to use his buy-back.

Bustamante then caught a break by earning the bye into the final, with Hall and Murphy and Hall playing a de facto semifinal. Hall ran five-and-out in the first game and never ceded control of the match en route to a 3-1 victory.

The final, though, saw Bustamante jump out to a 2-0 lead in games putting him on the hill. Hall took Game 3, but Bustamante clinched the 2013 9-ball banks title by taking the next rack 5-3.