Headstring News
Black Widow & Barry Hearn BCA HOF Bound
Aug 20, 2013, 10:21 PM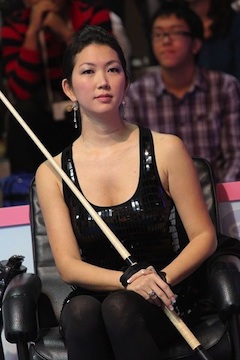 Jeanette Lee
Broomfield, Colo., August 21, 2013 — The Billiard Congress of America Hall of Fame is honored to welcome two of pool's most media-savvy personalities in 2013. The United States Billiard Media Association today announced that women's champion Jeanette "The Black Widow" Lee and British promoter Barry Hearn have earned induction into the sport's hall of fame by becoming the 61st and 62nd members.

Lee, 41, will enter the Greatest Players wing of the BCA Hall of Fame, while Hearn, 65, will be honored for Meritorious Service. Both will be formally inducted during ceremonies on December 2, 2013, at the Mirage Hotel/Casino in Las Vegas.

In the closest Hall of Fame voting ever, Lee edged Finnish star Mika Immonen in a special runoff election. The two champions were tied after the initial ballots were submitted. In the runoff, Lee and Immonen went head to head, where Lee surpassed her male contemporary by just two votes.