Ortmann, Ursitti Elected to BCA Hall of Fame
Aug 13, 2015, 3:57 PM



Just as Jose Parica is credited with leading the Filipino invasion of professional pool in the United States, Germany's Oliver Ortmann did the same for European players. Ortmann, whose stunning upset over Steve Mizerak in the Billiard Congress of America U.S. Open 14.1 Championship finale in 1989 spirited the rise of European challengers to American pool dominance, will be honored for his incredible international career when his is formally inducted into the BCA Hall of Fame in October. Ortmann, 48, was the top vote-getter among eligible players in the Greatest Players category on the 2015 Hall of Fame ballot, according to the United States Billiard Media Association. Joining the German pool legend in the BCA Hall of Fame class of 2015 is longtime promoter and billiard historian, Charles Ursitti, who was elected in the Meritorious Service category.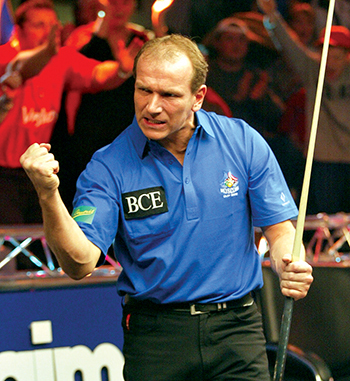 Oliver Ortmann

Appearances by European players at tournaments in the U.S. were sporadic before Ortmann, then just 22 years old, outlasted America's best straight pool players to capture the coveted U.S. Open title. Ortmann went on to win a second BCA U.S. Open crown, as well as three World Pool-Billiard Association world championships — two in straight pool (2007 and 2010) and the 1993 World 9-Ball Championship. He was also a Mosconi Cup staple on Team Europe during the 1990s, playing times and captaining his squad to victory in 2002. Ursitti, 68, began his career as a billiard promoter in 1978, when he teamed with New York production company Big Fights, Inc., to produce the first-ever meeting of pool legends Willie Mosconi and "Minnesota Fats," an event that drew more than 10 million television viewers. Ursitti and Big Fights went on to produce hundreds of hours of pool programming on ABC Wide World of Sports, CBS Sports Spectacular and ESPN in the late '70s and throughout the '80s, featuring dozens of the top professional players of the day and legends of the game. Ortmann and Ursitti will be formally inducted during ceremonies Thursday, Oct. 29, at the Sheraton Norfolk Waterfront in Norfolk, Va. The event will be held during the U.S. Open 9-Ball Championships.