Headstring News
Duchess On Top Again!
Mar 11, 2003, 4:34 PM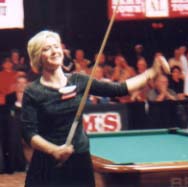 Allison Fisher beat down her rivals with a smile.
Allison Fisher, the "Duchess of Doom" reclaimed her top ranking over the course of a single event at the Womenís Professional Billiard Association season opener, the Delta Classic at Samís Town Casino in Tunica, Miss., March 5-9. Fisher defeated Jeanette Lee, 7-5, in the finals while former chart-topper Karen Corr languished in ninth place. The disappearance of Corrís 155-point lead over Fisher can be credited mostly to the precipitous 150-point drop that Corr suffered as a result of finishing ninth.

The new alternating-racks format shook up the charts some, with Corr going to the loserís bracket care of snooker import Kim Shaw and Lee losing to come-from-nowhere Texan Kim White, both in the second round. Both Shaw and White finished unexpectedly high in the field, with formerly 28th-ranked White taking fifth place, and formerly 19th-ranked Shaw taking fourth place and making her first appearance in the television rounds.

Fisher claimed $9,000 for her win, while Lee settled for $6,500. Taiwanese starlet Jennifer Chen took home $5,000 for third place and Shaw took home $4,000 for fourth. Helena Thornfeldt tied White for fifth place and $2,800.