Headstring News
Germany's Hohmann Surprises the World!
Jul 31, 2003, 12:02 PM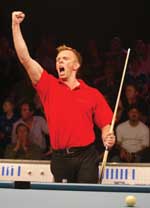 Hohmann's amazing dedication to the game paid off in a public way.
In an unlikely match-up of underdog contenders, Germanyís youthful Thorsten Hohmann defeated Canadaís diminutive Alex Pagulayan, 16-10, in the title match of the 2003 empirepoker.com World Pool Championship, July 20.
Hohmann controlled the match, running out three times in the first eight games, to gain a 6-2 lead, and holding his lead through the rest of the match. "I donít know what to say," said the overwhelmed Hohmann, whose hands partially covered a face that suddenly matched the bright red golf shirt he wore for the final. "I may not realize what I did for a few days."