Headstring News
Berhman To Run U.S. Open From Jail?
Aug 13, 2003, 4:28 PM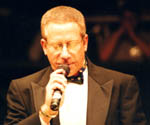 Behrman may have to conduct his business from behind bars.
Unless he receives a sympathetic ruling from Circuit Court Judge Bruce H. Kushner, Barry Behrman could well be running the 28th Annual U.S. Open 9-Ball Championship from a jail cell.

Behrman, 57, owner of Q-Master Billiards and promoter of the long-running pro pool event, has been jailed in Chesapeake, Va., since July 18 for a violation of his probation. It is the second probation violation against Behrman since his 2002 felony convictions for holding illegal gaming parties at his Chesapeake home.

Despite his legal woes, Behrman has vowed that the U.S. Open, scheduled to run Sept. 15 - 21 at the Chesapeake Convention Center, will go on as planned. According to an article by The Virginian-Pilot reporter Cindy Clayton, Behrman has been calling his employees at the Virginia Beach poolroom with instructions on running the tournament in his stead.

ďI donít want to take away the pleasures of the people who come [to the U.S. Open] every year, just because of my mistake,Ē Behrman is quoted as saying.
Behrman will find out on Sept. 8 whether he will be released in time to run the tournament, or if heíll spend more time behind bars. According to the Virginian-Pilot story, Behrman could be sentenced to at least six years in prison. Behrmanís first probation violation came in April, when he failed several drug tests and was convicted in Virginia Beach for not paying back taxes on his business.

How Behrmanís incarcaration will affect this yearís Open remains to be seen. The embattled promoter ran a successful U.S. Open in 2002, after suffering financial setbacks on both his 2001 Masters and 2001 U.S. Open, the latter of which coincided with the Sept. 11 terrorist attacks.