Headstring News
Sigel Back at the Table - and Back on Top
Nov 10, 2003, 4:55 PM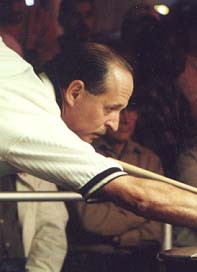 "Captain Hook" was back in action.
Pool legend Mike Sigel is back at the tournament table for the first time in nearly ten years. As a matter of fact, he is not just back at the table, but also back in the winnerís circle. Sigel took the top prize, a whopping $10,000, at the Senior Masters IV held at Steve Mizerakís Billiards in Lake Park, Fla.
Sigel took a single loss, 10-8, to Buddy Hall early in the competition, despite pulling ahead early on with a 7-0 lead. On the one-loss side, Sigel pounded through seven straight wins to earn himself another chance at taking down "The Rifleman." The final saw neither player gaining much of an advantage as the two living legends swapped the lead. Sigel put on a burst of speed to close it out, however, taking the last three racks for an 11-9 victory.