Headstring News
Larry Lisciotti, 57, Passes
Feb 9, 2004, 6:18 PM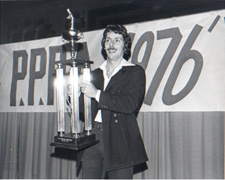 Billiards Digest is saddened to report the passing of East Coast legend Larry Lisciotti, 57, who died today, Feb. 9, from a long-term illness related to lung cancer. He is survived by his former wife and longtime companion, Susan, three
children and a grandson.

Lisciotti, nicknamed "Oil Can Larry" by cohort Jim Mataya, was a free-wheeling money player coming to prominence in the 1970s who also boasted the skills to win his share of mainstream tournaments (including the World Open Pocket Billiard Championship in 1976, pictured here). He perhaps is best remembered as one of pool's most charismatic personalities. A prominent mention in John Grissim's 1979 book "Billiards" summed up his allure: "Slim, smooth goodlooking, confident and a lover of the good life, Oil Can Larry satisfies the most demanding definition of that cherished persona that lies dormant in the psyche of millions of Americans-the riverboat gambler." And Sports Illustrated writer Mike DelNagro wrote, "Lisciotti, who has yet to work a day of his life, does not care about games against the big names; any guy he can
win a quick $50 from is his favorite opponent."

Lisciotti continued to compete up until 2003, spending the majority of his time in later years playing on the Joss Northeast Tour. Our condolences to his family and friends.