Headstring News
"Law & Order" Puts Pool in the Spotlight
Apr 14, 2004, 11:47 AM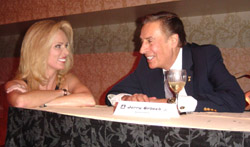 Ewa Laurance enjoyed a moment with special guest Jerry Orbach at Laurance's Hall of Fame induction ceremony.
After speaking with actor Jerry Orbach, star of NBC's Law & Order, Billiard Congress of America Executive Director Stephen Ducoff reports that Orbach's character plays pool on tonight's episode (Wednesday, April 14, 2004). He speaks about the sport, and even mentions professional players by name.

Mr. Orbach is an accomplished billiard player and recently was a special guest at the Billiard Congress of America (BCA) Hall of Fame Induction Ceremony (held April 1, 2004 at the Las Vegas Hilton) as the industry honored the 2004 inductees Ewa Mataya Laurance and George Balabuska.

Please check your local listings for time and channel.