Headstring News
Alex, the Lionhearted
Jul 18, 2004, 6:28 PM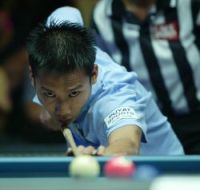 Alex Pagulayan
Down 8-2 and fearing he would lose his second straight World Pool Championship final, steely Alex Pagulayan lived up to his nickname, "The Lion," and roared back to score a 17-13 victory Sunday night in Taipei City, Taiwan.

Hometown favorite Pei-Wei Chang seemed invincible in the early rounds, drilling tough shots from every point on the table and stymieing Pagulayan with lock-tight safeties. But, at 11-6, Chang missed a 2 ball and gave Pagulayan some breathing room. Slowly gathering momentum and falling into his familiar jaunty rhythm, the 26-year-old Filipino (now living in Canada) started stitching together racks and forged an 11-11 tie. With Chang back on top, 13-11, Pagulayan threaded the cue ball through a tight opening in a Chang safety to sink the 1 ball and score a carom on the 4 on the same shot, blowing a hole in Chang's title hopes. He then cruised through six consecutive racks to claim the $75,000 title, sparking a wild celebration that sent him leaping and dancing around the arena.

Chang, a 25-year-old Taipei resident, won $35,000 for his second-place finish. He ably represented an enormously impressive Taiwanese contingent at the WPC, which placed four shooters in the final eight. They had no answer for Pagulayan, however, who defeated no fewer than four Taiwanese aces on his way to the title.

It was a career-defining victory for the so-called "Killer Pixie," who refused to relive the 2003 WPC final when he fell into a hole against Germany's Thorsten Hohmann and couldn't recover. He also hoped not to repeat the final of the 2002 U.S. Open, where he lost to Germany's Ralf Souquet.

"No more second place!" Pagulayan screamed as he ran through the arena after his victory, soon breaking into a rendition of "We Are the Champions."

For more details from the 2004 World Pool Championship, check out the event's Web site at www.worldpoolchampionship.com.