Headstring News
Rodney "Freud" Rescues U.S.
Dec 17, 2004, 3:00 PM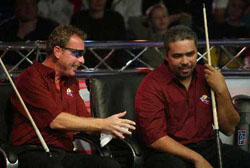 Rodney and Earl Strickland
Playing the role of psychologist to near perfection, Rodney Morris kept teammate Earl Strickland under control and helped prevent a European sweep of the Friday afternoon matches at the 2004 Mosconi Cup in Egmond aan Zee, Holland.

Having lost the opening two matches on the second day of the four-day, race-to-12 team tournament, the U.S. trailed Team Europe, 3-2, heading into the match pitting Morris and Strickland against the German duo of Oliver Ortmann and Thomas Engert. Making amends for subpar performances on the first day, the Germans played nearly perfect pool, and held a 3-2 lead in the race-to-five match. With the crowd influence growing, and annoyed by the slow playing Germans, Strickland began to grumble, drawing a warning from referee Michaela Tabb. Sensing the importance of the situation, Morris joked
about the slow play and wisecracked about the match. Having successfully reeled Strickland back in, Morris led the U.S. comeback and a 5-4 win, leaving the contest knotted at 3-3 heading into Friday night's singles action.

"That's me," joked Morris. "Sigmund Freud. Keeping volatile situations under control."

Earlier, birthday boy Mika Immonen and Swedish teammate Marcus Chamat whitewashed Charlie Williams and Tony Robles, 5-0. Williams has failed to win a Mosconi Cup match in his last six attempts.

Feeding off of the first-match win, which tied the overall score at 2-2, Steve Davis and Neils Feijen put the Euros ahead with a 5-3 win over Johnny Archer and Gabe Owen.