Headstring News
U.S..Triples Its Pleasure in Doubles
Dec 18, 2004, 12:17 PM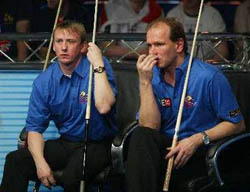 Thomas Engert and Oliver Ortmann
Team USA unleashed a lethal barrage of run-out doubles play on its European counterparts Saturday afternoon at the Mosconi Cup in Egmond aan Zee, Holland, sweeping all three matches to take a commanding 8-4 lead in the annual transatlantic team 9-ball tournament. The first team to 12 match wins will claim the 11th edition of the event.

Hoping to recapture some of the magic that spurred Team Europe to the 2002 Mosconi title, German captain Oliver Ortmann called his own number in the opening match Saturday, tabbing himself and countryman Thomas Engert to face the American duo of Johnny Archer and first-timer Gabe Owen. After playing poorly the night before in 2002, Ortmann sent himself out first in the next session, and his spirited efffort was a turning point in the Euros' surprise win.

But the magic was missing in 2004, and the German duo dropped a heart-wrenching 5-4 decision in a match that saw some brilliant pool. The American squad received a bonus when Charlie Williams and Tony Robles, winless in two team matches this year, surprised the previously unbeaten team of Dutchman Niels Feijen and Brit Steve Davis, 5-3.

With two wins already in the bag, the Americans got to sit back and enjoy its top squad, Earl Strickland and Rodney Morris, who performed a virtual clinic in a 5-0 thrashing of Mika Immonen and Marcus Chamat. The humbling loss left the European team four matches down, with the action shifting to singles play for the duration of the event.

Things will get no easier for the Euros Saturday night, with Morris and Strickland on tap for the Americans.