Headstring News
Duchess Continues Her Reign in Carolina
Feb 16, 2005, 9:47 AM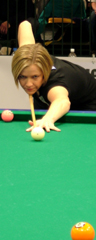 Allison Fisher started the season off right.
"Duchess of Doom" Allison Fisher won the season-opening Women's Professional Billiards Association's Carolina Classic, defeating Helena Thornfeldt, 7-4, in the final to collect the $10,000 prize.

This is the tour's first visit to the community of Rocky Mount, N.C., where the event was held, Feb. 9-13, at Nash Community College. The town responded with enthusiastic, sold-out crowds. After her win, Fisher (who lives just outside of Charlotte, N.C.) commented, "I hope we'll be back next year, especially as it's home turf for me. I haven't quite picked up the accent yet, as you can tell, but I'm working on it. This is a very good way to start my year."

Karen Corr took third and Monica Webb came in fourth place.