Headstring News
Fisher Takes Fifth Amway Title
May 11, 2005, 11:11 AM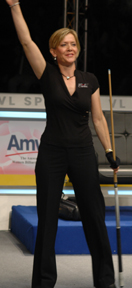 Fisher grabbed Amway title number five.
Allison Fisher has taken her fifth Amway Cup title. The Amway Cup World Women Billiards Invitational was held May 6-9 in downtown Taipei, Taiwan.

In the final, televised live on Taiwanese television station Videoland, Fisher bested Korea's Ga Young Kim, 11-6. Fisher collected $24,000 for her win. Kim took home $12,000 for second place.

The rest of the field finished as follows: 3. Karen Corr; 4. Shin-Mei Liu; 5. (tie) Yuan-Chun Lin, Wendy Jans; 7. (tie) Jasmin Ouschan, Jennifer Chen; 9. (tie) Shu-Han Chang, Jeanette Lee; 11. (tie) Jennifer Barretta, Kajitani Akimi.