Headstring News
Practically Perfect, Fisher Seizes Fourth Trophy of the Season
Aug 8, 2005, 3:28 PM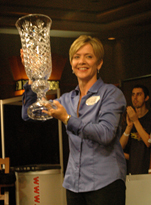 Still struggling with a stiff neck and playing a bit out of sorts, Allison Fisher nonetheless pulled it all together in the final of the WPBA's Midwest Classic and played nearly flawless pool to flatten challenger Helena Thornfeldt, 7-1.

"That was the best I've played all week," the Duchess of Doom said after the match, in which she missed just two balls and ran the final rack. As scored by the Accu-Stats system (percentage of balls pocketed vs. table errors), Fisher played at a .962 clip — an astonishingly high figure.

Fisher was coming off a disappointing, medal-less trip to the World Games in July, and a fourth-place finish at the WPBA's Southeast Classic in June, where she developed intense muscle spasms in her neck the morning of the final TV matches. It forced her to play left-handed for part of her match, as well as with a bridge for normally routine shots.

The malady hadn't entirely disappeared by the beginning of the Midwest Classic, held Aug. 4-7 at the Par-A-Dice Hotel & Casino in East Peoria, Ill. Fisher struggled through the pain, however, and managed to get through the tournament undefeated despite lackluster showings against Sarah Ellerby in the quarterfinals, 7-2, and Monica Webb in the semis, 7-3.

Against Sweden's Thornfeldt in the final, Fisher found her speed and raced to a 5-0 lead. Frustrated by small but costly errors and a dry break, Thornfeldt got on the board finally with an aggressive 2-9 carom in the left foot-rail corner. Fisher countered with a sporty shot of her own, a 7-9 combo that put her on the hill, 6-1. Thornfeldt again broke dry, bringing Fisher up for a typically elegant runout and the $16,000 title.

Fisher now has won four of the six Classic Tour points events so far in the 2005 season. With just two remaining, she is the leading contender for Player of the Year.