Headstring News
England's Raj Hundal Wins World Pool Masters
Sep 6, 2005, 9:54 AM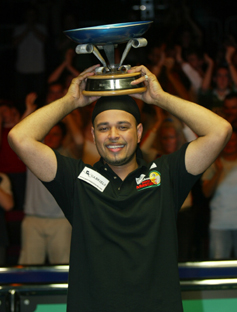 Hundal made a prizewinning comeback.
Playing against American powerhouse Rodney Morris, Raj Hundal was down. He was way down, in fact — behind 7-1 in a race-to-8 final at the 888.com World Pool Masters, held Sept. 2-4 in Doncaster, South Yorkshire, England.

But the 23-year-old Londoner wasn't finished just yet. He'd already had the run of his life, beating Niels Feijen and Thomas Engert, among others, to get to the finals. Morris got to the hill after Hundal scratched on the break, and victory seemd unimaginable for Hundal, but he wasn't ready to hang up his stick. Morris missed a long cut on the 1 in the next game, and Hundal turned it into the opportunity of a lifetime.

Game after game, Hundal put himself back on the scoreboard. He won eight consecutive games to win it all with a final score of 8-7. "I guess what goes around comes around," Morris told event promotor Matchroom Sport. "But that's pool. I don't mind losing to Raj, though, because he's a cool guy!"

Hundal, who collected $20,000 for the win, was overwhelmed: "It was the best day of my career, but now I'm just at a loss for words," he said.