Headstring News
BD Live Chat with Barry Behrman
Sep 9, 2005, 10:37 AM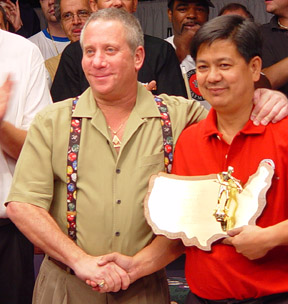 Behrman (l.) with 2003 Open runner-up Jose Parica.
Hereís your chance to chew the fat with one of poolís most celebrated and controversial figures ó U.S. Open 9-Ball Championship promoter Barry Behrman.

Behrman will make himself available for a live online chat beginning at 8 p.m. EST on Wednesday, Sept. 14, right here on the BD Web site. Just click the live chat icon on Wednesday for access.

Creator and promoter of the longest running major championship event in pool, Behrman has a unique and authoritative perspective on the history of the game and its current state. Among other topics, Behrman will hold forth on his special plans for the 30th annual U.S. Open, which will kick off Sept. 19; the upstart International Pool Tour, financed by controversial informercial magnate Kevin Trudeau; and perhaps even how Behrman is rehabilitating his image after legal troubles and skirmishes with the UPA menís player association earlier in the decade.

Behrmanís always candid and eloquent, so donít miss this chance to learn more about one of poolís most fascinating figures. And with BDís Player of the Year award entirely up for grabs this year, the Open could be 2005ís most important event. Donít miss out.