Headstring News
The Heat Is On In San Diego
Apr 21, 2006, 9:10 AM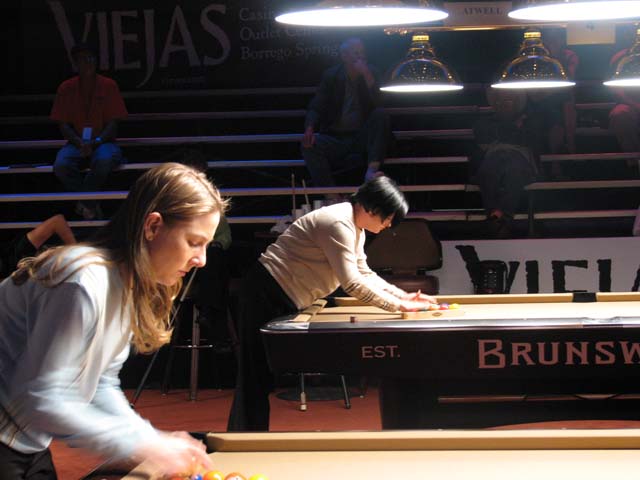 Ready, set, rack! WPBA President Kim White of Texas and Val Finnie of Scotland rack in the first round.
It's day two of the San Diego Classic, the third stop of the WPBA's 2006 season, and the winner's side is frought with contenders for the coveted $13,000 paycheck.

Defending champion Kelly Fisher won her first match over California's Darlene Stinson, 9-1, and looks well poised to make her way to the finals. Local favorite Tina Pawlowski suffered her first loss at the hand's of Virginia's Sueyen Rhee, but will return today to compete against Wisconsin's Jeri Engh.

First round upsets included #51-ranked Lisa D'Atri over Colorado's #24-ranked Laura Smith; #42-ranked semi-pro Leslie Anne Rogers of Texas over #26-ranked pro Melissa Little; newcomer Julia Gabriel over #31-ranked Stacy Hurst of Southern California; and the Florida Flash, #43-ranked Ellen Van Buren over #19-ranked Romana Dokovic.

Big matches in the winner's bracket will take place tonight, including Jeanette Lee vs. Kelly Fisher and Kim Shaw vs. Dawn Hopkins, who dismissed both Tiffany Nelson, 9-5, and Kim White, 9-7, in preliminary rounds.

Stay tuned for more coverage here at HeadString, or follow updated tournament brackets and highlights at www.wpba.com.