Headstring News
Cinderella Stories: Unknowns, second-tier players advance at WPC; Reyes falls to Alcano
Nov 10, 2006, 2:06 AM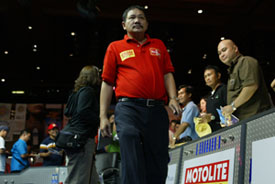 Reyes leaves the arena after his loss to Ronnie Alcano
MANILA, Philippines – Expect a run on programs at the World Pool Championship, as spectators scratch their heads, squint their eyes and try to suss out the identities of the players remaining in the round-of-16.

Thursday's matches at the WPC, held at the Philipinne International Convention Center, saw a major tectonic shift in the field, as highly-regarded players in the round-of-32 lost to a collection of up-and-comers, veritable amateurs, pool journeymen and past-their-prime veterans.

The biggest upset – and heartbreak for the local crowd – was the loss of Philippine national idol Efren Reyes to fellow Filipino Ronato Alcano, 10-7. The legendary 'Bata' was not his normal self, spraying shots around the perimeters of the tight pockets on the tournament's Brunswick Metro tables. Reyes dogged six or seven entirely makeable shots, and in the process began to lose his form – popping up from shots just after making contact with the cue ball, and steering shots with his cue.

Alcano vaulted to a 6-1 lead, taking advantage of several Reyes misses, and then hung on as Reyes temporarily regained form in the middle of the match. Within minutes, Reyes had recovered at 6-4 and was running out to further narrow the gap. But an ill-advised shot on the 7 in the side pocket clanged at the jaws, and Alcano mopped up to take back the momentum. From there, the two foes essentially traded racks in the alternate-break format, with Alcano inheriting some of Reyes' legendary "luck" by fluking in a 2 ball in the rack that put him on the hill.

The loss shouldn't be so surprising. The wiry Alcano has been impressing the pool world with top-level play on the International Pool Tour. In addition, Reyes had been feeling the weight of expectations in front of his home-country crowd.

"It's very exciting, and I'm very nervous," Reyes told BD before the match. "People here in the Philippines are expecting me to win. I'd be ashamed to lose."

Reyes quickly decamped after the loss.

Other notables relegated to the sidelines Thursday were imperious former world champion Fong-Pang Choa of Taiwan, defeated by countryman Che-Wei Fu, 10-8; Germany's Thomas Engert, bested by Serbia's Sandor Tot, 10-6; Filipino Lee Van Corteza, trumped by Spain's David Alcaide, 10-8; and Taiwan's Ching-Shun Yang, edged by warhorse Ralf Souquet of Germany, 10-8.

In truth, there weren't that many well-known players left in the field to begin with, as none of the American squad had survived past the round-of-64, and several young entrants played over their heads.

Among those was 26-year-old Canadian Tyler Edey, attending his first-ever world championship. Edey edged 2003 WPC champ Thorsten Hohmann in the round-of-64, pulling off a hill-hill upset. He then continued his streak on Thursday with another 10-9 victory, this time over little-known Ricky Yang from Indonesia.

"This is definitely a milestone for me," a grinning Edey said just before his match with Yang. "I think the mental game is the biggest problem for me right now. I'm inconsistent. I have trouble focusing sometimes. We'll see how things go. It's a matter of focus – being able to shut out other distractions."

Experience trumped youth as 49-year-old Steve Davis, the snooker legend from England, extended his miracle run at the WPC by teaching lanky youngster Jharome Pena (a qualifier for the event from the Philippines) a lesson, 10-8.

Davis opened a 6-2 lead before letting Pena back in the match with careless play. Pena closed to 7-6 – taking four straight racks to the approving roar of the home-country crowd – before Davis began to right his ship. The snooker legend temporarily looked like the qualifier in one rack, however, when he shot at the 3 ball without noticing the 2 ball up table. Stoic, he barely winced as referee Michaela Tabb swiftly called the foul and awarded ball-in-hand to Pena.

With Davis leading 9-8, Pena showed his nerves and inexperience with a glaring miss, leaving Davis with a three-ball runout for the victory.

Here are the complete results from the 16 matches in the round of 32

Che-wei Fu (Taiwan) def. Fong-Pang Chao (Taiwan), 10-8
Luong Chi Dung (Vietnam) def. Vilmos Foldes (Hungary), 10-4
Steve Davis (England) def. Jharome Pena (Philippines), 10-7
Po-Cheng Kuo (Taiwan) def. Marlon Manalo (Philippines), 10-7
Jeff De Luna (Philippines) def. Kun-Fang Lee (Taiwan), 10-8
Cheng-Chuan Liu (Taiwan) def. Ryu Seong-Woo (Korea), 10-6
Konstantin Stepanov (Russia) def. Marco Tschudi (Switzerland), 10-7
Rudolfo Luat (Philippines) def. Roy Apancho (Indonesia), 10-6
David Alcaide (Spain) def. Lee Van Corteza (Philippines), 10-8
Chia-Ching Wu (Taiwan) def. Hung-Hsiang Wang (Taiwan), 10-3
Ralf Souquet (Germany) def. Ching-Shun Yang (Taiwan), 10-8
Ronato Alcano (Philippines) def. Efren Reyes (Philippines), 10-7
Pat Holtz (Scotland) def. Kevin Uzzell (England), 10-6
Tyler Edey (Canada) def. Ricky Yang (Indonesia), 10-9
Li He-Wen (China) def. Rudy Morta (Philippines), 10-8
Sandor Tot (Serbia) def. Thomas Engert (Germany), 10-6

The championship concludes on Sunday, when the winner will collect a $100,000 top prize.