Headstring News
Plan B for Philippines – Go with Luat
Nov 10, 2006, 2:18 PM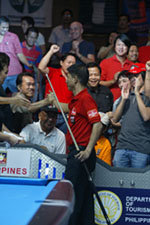 Rodolfo Luat
MANILA, Philippines – Look who's carrying the flag for the Philippines: Rodolfo Luat.

With all the top-tier Filipinos eliminated from the 2006 World Pool Championship, 49-year-old Luat suddenly has taken the role of elder statesman. And the obviously partisan crowd at the Philippine International Convention Center has adopted him as their new hero, at least for one match.

A raucous crowd of about 400 Filipinos roared when Luat squeaked by Spaniard David Alcaide, 11-10, in their round-of-16 match. Cheers of "Phil-i-ppines" rang out, and Filipino flags unfurled from overhead balconies.

Known for his stoic manner at the table, the rail-stiff Luat couldn't help but smile sheepishly as the tight match reached the late racks, taking in the crowd's encouragement and their frequent admonishments to "take your time, boy!"

"I was smiling nervous, and smiling happy," Luat said later.

As he lined up the final 9 ball, Luat tugged on his shirt as if to cool himself down, and brushed his chest as if it was loaded with bread crumbs. The crowd rocked with laughter.

While the support was helpful, Luat noted afterward that he now felt the pressure to win that likely has torpedoed his more-favored compatriots.

"We have more pressure to win here because it is our own country," Luat said. "It's better that you go to America to play."

Luat's best-ever finish at the WPC was a quarter-final exit in 2000. Luat is guaranteed to at least equal that finish.

Also still in the field of 16 are Filipino Ronnie Alcano and youngster Jeff De Luna.