Headstring News
More WPC Quarterfinal Excitement
Nov 11, 2006, 3:02 AM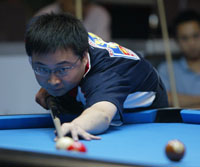 Li He-Wen
The surprises just keep coming at the 2006 World Pool Championship.

Within the space of about 30 minutes during quarterfinal action, defending champion Wu Chia-Ching fell to lone Filipino hope Ronato Alcano, 11-6, and Chinese sensation Li He-wen continued his eye-popping run at the WPC by shellacking Vietnam's equally surprising Luong Chi Dung, 11-7.

With those results, the semifinalists were set for this year's WPC, and they represented four different countries. The matchups are: Ralf Souquet (Germany) vs. Fu Che-Wei (Taiwan), and Alcano (Philippines) vs. Li (China).

In a competition that's been as unpredictable as snow storms in July, the bespectacled Li has come from the farthest regions of left field. In the first year that Chinese players have competed in the WPC, the 26-year-old Li seems an unlikely trailblazer with his computer-nerd looks, monosyllabic attitude and slightly lost expression. His nickname is "Doraemon," after a chubby Japanese cartoon character.

But Li has long put to rest any doubts about his ability. He is ranked No. 1 in China, and many in Asia consider him a natural talent. He finished second to Efren Reyes this year at the Ho Chi Minh stop on the San Miguel Asian 9-Ball Tour.

In the WPC quarterfinals, he was in control of his match against Dung from the beginning.

"I didn't think I would do this well," Li said of his semifinal berth. "The key is that I never felt much pressure, that I had to win this or that match."

Asked if he thought he could win the whole event, he shrugged his shoulders: "I never thought about it."

Twenty feet away in the Philippine International Convention Center, last year's dark horse, 17-year-old Wu, was suffering a meltdown against Alcano. He never got on track, torpedoing his chances by scratching whenever he seemed to get a head of steam.

"Even after I changed my breaking style, nothing was going for me," Wu said.

Alcano's Filipino countryman had packed the arena and the overhead balconies, cheering loudly at every Wu mistake. They then followed his directly to his semifinal match against Li. No rest for the Philippines' last hope.