Headstring News
Not Much of a Thrilla: Alcano Scores Knockout vs. Souquet in WPC Final
Nov 12, 2006, 12:02 PM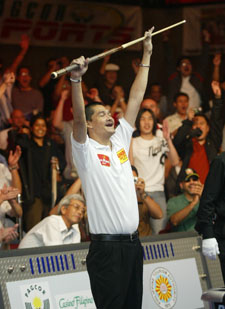 Ronato Alcano
MANILA, Philippines – In a virtually flawless performance that showed off all the best qualities of Philippine pool, Ronato Alcano dominated Germany's Ralf Souquet, 17-11, to win the 2006 World Pool Championship.

After just barely cracking the top 64 of the 128-man field, Alcano tore through the single-elimination stage, beating former world champs Efren Reyes and Wu Chia-Ching on his way to the final against Souquet, who earned the title in 1996.

The always-methodical Souquet was favored in the match by the Western media, due in part to the belief Alcano would fold with the weight of his home-country's expectations on his shoulders. But Alcano more than proved up to the task, playing a superbly controlled game that featured laser-targeted shooting, jaw-dropping position play and unreasonably cruel safeties.

His most potent weapon, however, was his soft break, that virtually guaranteed a shot on the 1 ball after every opening salvo.

"My game plan was to try to get to get the breaks and take a two- or three-game lead," Alcano said. "When I finally got a six-rack lead, I felt comfortable, but I knew it wasn't over."

Actually, it pretty much was, once Alcano had extended his lead from 9-4 to 12-5. With the alternate-break format, coming back from a seven-game deficit would be all but impossible. And Souquet wasn't doing himself any favors, consistently losing control of the cue ball and, more importantly, never finding the correct speed on the break.

"I couldn't get any rolls on the break," Souquet said. "I made some bad choices. Basically everything went wrong, because I couldn't get a rhythm going."

Souquet broke down briefly during the trophy presentation ceremony, prompting the enthusiastic and generous crowd to chant his name until the usually stoic German raised his head and waved.

They saved their biggest roar for 34-year-old home-product Alcano, a second-tier player in the talent-rich Philippines. At the start of the nine-day event, he was just one of 21 Filipinos in the field. But, unlike his countrymen, he was able to keep focus and bring his best game when it counted.

Strangely, the famously loosey-goosey Alcano hardly showed any enthusiasm directly after sinking the final 9 ball.

"I was holding back tears," he said. "I tried to control my emotions like I did all throughout the match. I was successful in holding back the crying."

Alcano collected $100,000 with his win. Souquet, who also finished runner-up in the 2001 World Pool Championship, settled for $40,000.