Headstring News
Shaky U.S. Even With Europe
Dec 8, 2006, 11:43 AM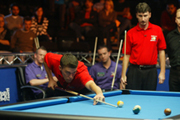 Tied at three matches apiece after the first two sessions of the PartyPoker.com Mosconi Cup in Rotterdam, Holland, one would think Team USA would be satisfied and confident.

They're anything but.

The perennial Mosconi Cup holders looked shaky Friday afternoon at the Cruise Terminal in the Dutch river city, dropping two of three matches. Of even more concern, the previously untouchable doubles team of Earl Strickland and Rodney Morris dropped their first-ever Mosconi Cup match, losing 6-5 to the less-than-imposing duo of Dutchman Nick van den Berg and Brit newcomer Imrad Majid.

Morris, Team USA's best player in the past three years, made numerous positional errors in the match, giving van den Berg and Majid, and the boisterous, orange-clad Dutch faithful, reason to cheer.

The Euro victory came after U.S. captain Johnny Archer and Cory Deuel had manhandled Spaniard David Alcaide and German veteran Thomas Engert, 6-1.

The race-to-13 team cup challenge resumes Friday evening with three singles matches.