Headstring News
Game On!
Dec 10, 2006, 10:55 AM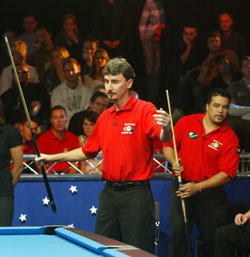 Archer and the Americans have battled back at the Mosconi Cup.
In a stunning and somewhat bizarre turn of events at the Cruise Terminal in Rotterdam, Holland, Team USA ran off a three-match sweep Sunday afternoon to forge an unlikely 9-9 tie heading into the final stage of the 13th PartyPoker.com Mosconi Cup. The Americans, who entered the day trailing 9-7, need four matches to win the event. The race-to-13, 24-match team event could end in a 12-12 tie, in which case the U.S. would retain the Cup, much like in golf's Ryder Cup.

Sunday's action began with a full six-man team match, dominated by the U.S., 6-3. For the first time in the four-day tournament, the Americans played loose, aggressively and confident, while the Euros made uncharacteristic pocketing and positional errors.

Then, in a match that could well be looked back on as the turning point of the Cup, the triples team of Earl Strickland, John Schmidt and Corey Deuel overcame team infighting and shoddy play to steal a 6-5 win over the Euro trio of Imrad Majid, Thomas Engert and Nick van den Berg. The Americans missed three consecutive chances to break Europe's serve, missing the 9 ball in the first rack, the 6 ball in the third, and a jump shot that was forced by poor position play in the fifth. Still the match was 3-3, but when Europe took a 5-3 lead and came to the table with an open rack, it looked as though the U.S. had gift-wrapped a win for their hosts and Europe would take a commanding 10-7 lead.

Incredibly, former Brit snooker player Majid missed an easy shot in the side pocket. The U.S. pulled to within 5-4, then ran out from the break to force the deciding rack. With German Engert at the table and an open rack in front of him, Team Europe had the rug pulled out from beneath it when Engert's hand moved an object ball during his shot on the 1 ball. The U.S. completed the rack and the comeback to pull to within a match at 9-8.

The afternoon's final match proved to be little contest, as the steamrolling American trio of Johnny Archer, Rodney Morris and Mike Davis crushed Europe's Mika Immonen, Ralf Souquet and David Alcaide, 6-1.

"It's taken us three days to come together," said U.S. captain Archer. "But we're a little closer to that now, and after a sit-down last night, we played well today for the first time in the tournament."

The event will conclude with six race-to-5 singles matches Sunday night.