Headstring News
China's Pan Claims World Title
Apr 10, 2007, 6:25 PM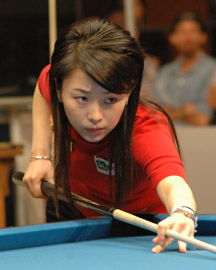 Chinese sensation Xiaoting Pan has taken a giant step toward solidifying her credentials as an elite player by winning the prestigious 2007 Amway Womenís World 9-Ball Championship, in perhaps the strongest field ever assembled for an international womenís event.

Pan clobbered newcomer Rubilen Amit of the Philippines, 11-5, in the final of the Championship, held April 5-8 in Tao-Yuan, Taiwan. She pocketed $20,000 for the win, and Amit took home $10,000.

In yet another sign of the continuing Asian takeover of international pool, the finishers tied for third place were Pei-Jen Tsai of Taiwan and Yukiko Hamanishi of Japan.

How tough was the competition in Tao-Yuan? Former world champion Hsin-Mei Liu finished tied for fifth; BCA Open champion Jasmin Ouschan of Austria was tied for 17th; and Allison Fisher didnít make it out of the group stages.

Barely five feet tall, Pan is quickly becoming a towering presence in womenís pool. Just two weeks prior to the Amway Championship, Pan had secured her first title on the Womenís Professional Billiard Association Classic Tour. She beat Helena Thornfeldt of Sweden, 7-2, at the Great Lakes Classic in Michigan City, Ind.