Headstring News
Yang Crowned "Money Game King of Asia"
Apr 16, 2007, 5:49 PM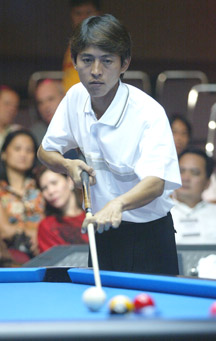 Yang's 8-pack put the match out of reach.
QUEZON CITY, Philippines — Yang Ching-shun of Taiwan completed his bid for the title of "Money Game King of Asia" with a convincing 60-42 victory on Saturday over Dennis Orcollo of the Philippines.

Yang entered the final day of the three-day, mano-a-mano challenge match with a 40-28 lead in the race-to-60 format. Just as he did on Day 2, Yang posted strings of games with his superior breaking, great shotmaking, superb position play and splendid defense.

After Orcollo took the first rack of the day, Yang strung together eight games in a row. After another string of five games in the 82nd to 86th rack, he led the match 55-31. Orcollo mounted a spirited comeback, running eight straight racks after Yang closed within two games of the title, 58-34. But a missed 7 ball brought Yang back to the table, where he mopped up to take his place on the hill, and then broke and ran out for the title.

Yang, nicknamed "Son of Pool" and considered the top player in pool-rich Taiwan, pocketed $10,000 for the win.

For more details, visit www.poolphilippines.com.