Headstring News
Corr and Orcollo Run Away With EnjoyPool.com 9-Ball Crowns
May 21, 2007, 6:22 PM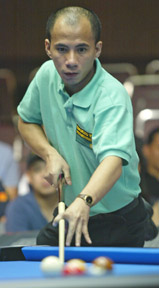 Orcollo broke through at the BCAs.
In the first of 2007's "major" pool events, Karen Corr and Dennis Orcollo made strong opening statements for Play of the Year honors by clubbing the competition at the 2007 BCA EnjoyPool.com Open 9-Ball Championships.

Both players won their $15,000 titles from the winners' side of the 64-player fields, and defeated their hot-seat opponents in the finals to do it. No. 2-ranked Corr aced her first pro title of the year by first defeating No. 1-ranked Allison Fisher in the hot-seat match, 9-4, and then beat Fisher again in the final, 7-4. Orcollo, perhaps the hottest Filipino of the moment, handled young American Shane Van Boening, 11-6, in the hot-seat match, and then dominated him in the 7-0 final.

"I never expected to win this tournament, but I was ready," said Orcollo. The victory goes a long way toward legitimizing the 28-year-old Filipino, who is known as the top money player in his home country.

"Dennis played great; he played like a champion," said Van Boening, the clear crowd favorite, who, ironically, defeated Orcollo in two sets of bar-table 8-ball in action earlier in the week.

The championships took place May 13-19 at the Riviera Hotel & Casino in Las Vegas. The semifinals and finals of both the men's and women's divisions will be aired on ESPN from 2 p.m.-6 p.m. EST on June 24.

In the men's final, Van Boening could never get on track, twice breaking dry and losing control of the table after loose safeties. In the women's final, Fisher uncharacteristically missed a handful of shots — most painfully, an easy 4 ball that could have helped her tie the match at 5-5. Instead, Corr cleaned up the errant 4 ball and ran out for a 6-4 lead, with the break. "The Irish Invader" ran the next rack for the title — her fourth at the annual event.