Headstring News
Engert Regains Form, Wins Second World Pool Masters
Jun 12, 2007, 11:11 AM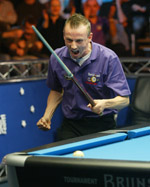 An energized Engert won his second World Pool Masters.
Thomas Engert, who has struggled in recent Euro Tour events, overcame a field of world champions and battled illness on his way to his second World Pool Masters championship.

The event, held at the the Hotel Zuiderduin in Egmond aan Zee, Holland from June 8-10, featured 16 of the world's top players. The Asian contingent was headlined by Ronnie Alcano of the Philippines and Taiwan's Chia-Ching Wu. Europe was heavily represented, featuring five members of the European Mosconi Cup team.

Engert began play Saturday afternoon, cruising to an 8-4 victory over Malta's Tony Drago. Afterwards, the German felt ill and spent the next 16 hours in bed.

Engert needed every ounce of strength, since he would play three matches on Sunday. He eked out a win against Wu, 8-7, before handling Nick Van den Berg, 8-4, in the semifinal.

On the other side of the bracket, David Alcaide upset top-seeded Ralf Souquet, 8-6, in the tournament's opening match. The Spaniard then bested Oliver Ortmann, 8-3, and Pat Holtz of Scotland, 8-5, to meet Engert in the final.

With wins over Ortmann and Souquet, Alcaide looked to complete his sweep of the German players. As play began, Alcaide kept pace, matching Engert at 5-5, but his break would escape him. Two dry breaks by Alcaide allowed Engert to run the final three racks, posting an 8-5 victory.

Engert, who also won the 2004 World Pool Masters, joins Francisco Bustamante and countryman Ralf Souquet as the only players to win the event multiple times. Souquet has won five times in the event's 14-year history.