Headstring News
Bustamante, Orcollo roll to weekend wins
Jun 25, 2007, 10:58 AM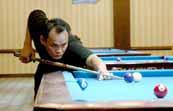 Twice as Nice: Bustamante took two titles at the Hard Times Summer Jamboree
Filipino superstars Francisco Bustamante and Dennis Orcollo stacked up three wins over the weekend. Orcollo took down the Bill Staton Memorial tournament, and Bustamante snapped off the 9-ball and one-pocket events at the Hard Times Summer Jamboree in Sacramento, Calif.

The Bill Staton Memorial, a tribute to legendary "Weenie Beenie" Staton, was held at Q-Masters Billiards in Virginia Beach, Va. Orcollo was defeated in the second round by Canadian upstart John Morra, but worked his way back from the left side.

Korea's Shin Young Park captured the hot-seat, outlasting Jeff Abernathy. Orcollo then pushed Abernathy into third with a win in the losers-bracket final.

In the single-set final, Orcollo broke his way to an insurmountable lead. The Filipino import eventually closed out the match, 11-6, winning $3,000 for his first-place performance.

Meanwhile, out on the West Coast, Bustamante had his way with the field at the Hard Times Summer Jamboree, capturing the 9-ball and one-pocket events with two undefeated runs through the brackets.

His first victory came against US Open champion John Schmidt, a powerhouse matchup in the second round. Django went on to win five more, while Schmidt rattled off 10 straight on the left side to secure a rematch in the final. Again, Bustamante handled the American, 11-7, to take the $3,500 top prize.

The one-pocket event was more of the same. Bustamante sent Tony Chohan to the left side early on, but would face him again in the final. In a match that lasted nearly three hours, Bustamante took the deciding game of the hill-hill final to win, 5-4. Up 4-1, Bustamante looked to be cruising, but Chohan battled back, winning three of the next four to meet Busta on the hill.

Eventually, Bustamante found an opening, going on the offensive to win the ninth and final game. Again, he pocketed $3,500 for his win.