Headstring News
Fisher Nets First Title of 2007 in Florida
Jul 2, 2007, 11:09 AM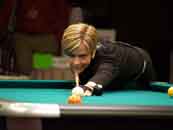 Fisher cruised after her close call with Hofstatter (Photo by Roberta Case)
All that talk about the changing of the guard on the WPBA might have been a bit premature. Xiaoting Pan and Ga Young Kim took the first two events of the year. The years of Allison Fisher and Karen Corr dominating the brackets and point standings were over.

Not so fast. Following Corr's win at the EnjoyPool.com 9-Ball Championship in May, Fisher cruised to her 49th title on the WPBA Tour, winning the Florida Classic in Holiday, Fla., from June 27 to July 1.

On her way into the TV rounds, Fisher escaped with two hill-hill victories. Her first close call came in the second round against Liz Ford. A miscue by Ford in the final rack allowed Fisher to run out for the win. Then in her quarterfinal match against Gerda Hofstatter, Fisher eked her way into the final four with another 9-8 win.

On the other side of the bracket, Kim and Pan both looked to be the first woman to win two events this year. Kim, who dropped her third-round match against semifinalist Melissa Herndon, 9-6, won on the left side to make the final 16. She then dispatched Dawn Hopkins, 9-1, and Kelly Fisher, 9-7, before facing Pan. Kim would continue her hot streak, outlasting the reigning world champion, 7-4.

The final proved to be all Fisher's, as she jumped out to a 4-0 lead. Though Kim would take the next three racks, Fisher buried 4 balls on the break in the eighth game. She closed out that rack, then won the next two. Her first win of the year, Fisher is back in solid control of the top spot on the points list.