Headstring News
Pagulayan Absent from Guinness 9-Ball Team, Claims BSCP Prejudice
Jul 30, 2007, 11:03 AM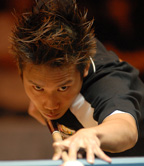 Pagulayan's 2007 Guinness 9-Ball Tour is over after being replaced in Shanghai.
"The Lion" Alex Pagulayan will not be competing in the final stop of the Guinness 9-Ball tour in Shanghai from Aug. 3-5. Whether this is because of an internal bias in the Billiard and Snooker Congress of the Philippines (BSCP) or punishment for Pagulayan's actions during a recent match is up for contention.

The BSCP announced that Jeffrey de Luna will join Ronnie Alcano, Lee Van Corteza and Roberto Gomez to represent the Philippines. The Shanghai stop will be the fifth and final event before the grand finale in Bali, Indonesia, on Aug. 31-Sept. 2. Pagulayan, currently ranked 16th with 60 points, would have had a shot at cracking the top ten with a solid finish in Shanghai; De Luna is now in 26th place, unable to make the final regardless of his performance.

While traveling to the 2007 Cebu Open, Pagulayan accused the BSCP of having a personal bias against certain players. He claims that his removal from the Guinness event is retribution for his refusal to take part in a local TV show, unless he received compensation.

"If they want to use me and make money off me, I need to make money, too," Pagulayan said.

The BCSP responded with a press release stating Pagulayan's misbehavior in the July tour stop in Singapore justified replacing him for the Shanghai event. According to the BCSP, Pagulayan's actions were "unworthy and unacceptable for a representative of a country that is regarded today as 'the epicenter of pool.' His antics amounted to sharking."

Usually an extrovert around the table, Pagulayan is known for his animated play and energetic personality. In regards to this specific incident, Guinness and ESPN Star Sports had no objections with the 2004 World Pool Champion's behavior.

On Sunday July 29, Pagulayan won the 2007 Cebu Open as controversy swirled around him. Returning to Manila, he has admitted plans to possibly form an association for pool players in the Philippines as an alternative to the BCSP.

Pagulayan claims to have the support of 80 percent of the players, including Efren Reyes and Francisco Bustamante.