Headstring News
Major Milestone: Fisher Claims 50th Classic Tour Title
Aug 6, 2007, 1:06 PM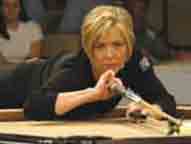 The 2007 U.S. Open will be remembered as Fisher's 50th tour victory.
Allison Fisher, the most dominant force on the WPBA Classic Tour for well over a decade, snapped off the U.S. Open 9-Ball Championship, marking her 50th career victory on the pro tour. Fisher snuck past Kelly Fisher in a hill-hill final to win back-to-back events after going winless in the first four tournaments of 2007.

This is Fisher's third consecutive win at the U.S. Open, held from Aug. 1-5 at the Lincoln Park Casino in Lincoln, R.I. She opened play against Rachel Abbink, cruising to a 9-3 victory. Fisher was pushed to the limit in her second-round match against Tracie Hines, 9-8, then bested tour veteran Vivian Villarreal twice. Fisher took the first match, 9-6, then drew Villarreal again in the round of 16, this time advancing, 9-4.

Unlike most WPBA events where the TV cameras start rolling during the semifinal matches, the U.S. Open began coverage during the quarterfinals. With the format shortened to race-to-7, Fisher dispatched Jennifer Barretta, 7-3, then rising star Ga-Young Kim, 7-4, to take her seat in the final.

On the other side of the bracket, Kelly Fisher was doing a little damage of her own. She outlasted Laura Smith, 9-5, and Xiaoting Pan, 7-5. She then handled Kim Shaw, 7-2, to secure an all-Fisher final.

Kelly Fisher, herself a long-time resident of the upper echelon of the WPBA rankings, battled with top-ranked Allison, tying the match at 2-2, 3-3 and 5-5, then made it a hill-hill affair at 6-6.

Allison opened with a dry break, but left Kelly without a look. Kelly pushed out, but left Allison with a shot on the 1. After hooking herself on the 4, Allison executed a brilliant one rail kick that gave her difficult position. She was able to navigate the rest of the rack, closing out the case game to take the title.