Headstring News
Turning Stone IX Rolling into Day Two
Aug 15, 2007, 10:43 AM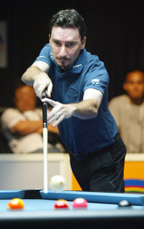 Archer faces a long trip through the left side to win his third straight.
The first round is complete at the Turning Stone Classic IX, wrapping up Sunday, Aug. 19. The $25,000-added event has a 128-player bracket that is stacked with the country and world's top talent.

The biggest upset following the 64 first-round matches featured Adam Stanton handling two-time defending champion Johnny Archer, 9-6. Stanton went on the offensive from the start, winning the first five games. Archer looked to capture control of the match by taking four of the next five, but ultimately fell, 9-6.

John Morra, the surprise runner-up at February's event, will no longer enjoy anonymity in the early rounds. Still, the 18-year-old Canadian advanced against Mark Pantovic.

The top international stars all stayed in the winners bracket through one round. Mika Immonen had the closest call, edging Mike Wallace in a hill-hill contest, 9-8. Immonen will be half of the biggest matchup in day two, taking on Dennis Hatch.

Also on Friday, Allen Hopkins will face Tony Crosby, and Ronnie Alcano will square off with Ingacio Chavez.

Held at the Turning Stone Resort & Casino in Verona, N.Y., the tournament, as expected, is free for all spectators.