Headstring News
Van Corteza Wins Turning Stone IX; Ulrich Surprise Finalist
Aug 21, 2007, 10:56 AM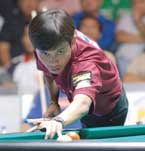 Van Corteza owned the final match, closing out Ulrich, 13-7.
A week after losing a one-rack playoff to Niels Feijen for $50,000 at the International Challenge of Champions, Lee Van Corteza showed no signs of shell shock. The Philippine national champion defeated Louis Ulrich in the final of the Turning Stone Classic IX to win the $8,000 first prize.

Though an obvious difference in monetary reward, this win is most impressive considering the amount of talent in the 128-player field. After losing to countryman Dennis Orcollo, 9-6, in the right-side semifinal, Van Corteza had to battle two of Europe's premier players.

First up for Van Corteza: Feijen, one of the hottest players in the world. Atoning for his sudden-death loss last week, Van Corteza dominated the Dutch star, closing out the match, 9-3. He then handled Germany's Ralf Souquet, 9-5, to face Orcollo in the third-place match.

Van Corteza rolled through Orcollo, coasting to a 9-2 win to put him in the single-set, race-to-13 final against surprise finalist Louis Ulrich.

Ulrich, who had a few strong finishes in some regional tour events and a fifth-place showing at the 2006 Derby City Classic One Pocket event, didn't get any breaks in his draw for this tournament. The relative unknown to casual observers knocked off plenty of seasoned veterans.

On his way to the hot-seat, Ulrich outlasted Jasmine Ouschan, 9-6; Allen Hopkins, 9-8; Shane Van Boening, 9-4; Stevie Moore, 9-4; Karen Coor, 9-2; and Dennis Orcollo, 9-6. Beating big name after big name, Ulrich more than proved he belonged in the final pairing.

In the final, Van Corteza quickly proved to be in superior form, winning 12 out of the first 14 racks. Up 12-2, he then scratched, allowing Ulrich to win five straight to close the gap, 12-7. However, a dry break from Ulrich in the 20th game allowed Van Corteza to run out an open table to take the title.