Headstring News
Chang Edges Corteza, Takes Guinness Grand Finale
Sep 4, 2007, 1:20 PM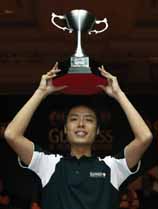 Familiar Pose: Chang raised the cup for a third time in 2007.
For the inaugural year of the Guinness 9-Ball Tour, the tour ended the way it began — with a victory by Taiwan's Chang Jung-Lin. The 22-year-old Taipei resident won the Grand Finale by beating Lee Van Corteza in the final, 11-8.

Held Aug. 31 to Sept. 2 at the Grand Hyatt Hotel in Bali, Indonesia, the final stop of the Guinness tour (formerly the San Miguel Asian 9-Ball Tour) sealed a clean sweep of this year's events by the Taiwanese players. Chang took three, and Yang Ching-Shun won the other three.

The 10 highest ranked players after five events throughout Asia gathered for the final in Bali. The format, a bit different from earlier events, split the men into two groups of five for round-robin play. The top two from each pool then advanced to the single-elimination, race-to-11 semifinals.

Wu Chia-Ching, the 2005 WPA World 9-Ball champion, was the only undefeated player remaining after the round-robin matches. In the semifinal, he faced Lee Van Corteza, fresh off his win at the Turning Stone IX Classic. Switching to a soft break mid-game, Corteza punched his ticket to the final, 11-8.

The other semifinal pitted the only two men to win on tour this year. The format was race-to-11, but a player must win by two to a maximum of 13. The two champions eventually met on the hill, 12-12. Chang closed out the 25th rack to advance opposite Corteza.

In the final, Chang took advantage when Yang scratched on two consecutive breaks. Chang ran out both times, capturing the title with an 11-8 final victory.

Though a force on tour throughout the year, Chang felt especially proud of this win. Among other Taiwanese players who are more internationally established, Chang proved he belonged.

"It's more than just the monetary reward – it's about being recognised as an international player that makes this victory means so much to me," he said.