Headstring News
Davis Snaps Off Florida Pro Tour Event
Sep 10, 2007, 11:17 AM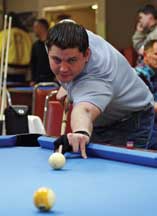 Davis was flawless after a first-round hiccup sent him to the left.
Dropping his first match of the tournament, Mike Davis quickly righted the ship to go through the left side on his way to winning the Jacksonville, Fla., stop on the Florida Pro Tour.

Held Sept. 8-9 at Bankshot Billiards, the event opened with Davis dropping his first match to tour director John DiToro, 7-5. On the left side, Davis won three straight at an impressive clip of 21-5. He then had to squeeze out two hill-hill matches against top pros Thorsten Hohmann, 7-6, and Gabe Owen, 8-7, to stay alive for Sunday's action.

Twelve players remained as day two got rolling. Davis beat Stevie Moore, 8-6; Robb Saez, 8-5; Tony Crosby, 8-4; and Neil Fujiwara, 8-1, to advance to the left-side final. There, he outplayed Rafael Martinez to take his place in the single-set, race-to-9 final.

DiToro, after dispatching Davis in the first round, survived a hill-hill set with Javier Chirino, 7-6, in the fourth round. Other than that, DiToro coasted into the hot-seat match, where he faced Martinez.

In a see-saw battle, DiToro faced his second hill-hill battle, again prevailing in the final rack to advance to the final opposite Davis.

The first-round rematch turned out to be all Davis. He had complete control throughout, eventually closing out the final, 9-2.

Davis took home $3,500 of the $8,500-added purse, while Martinez won $2,200 for his second-place effort.