Headstring News
U.S. (Barely) Advances in World Cup of Pool
Sep 27, 2007, 1:45 PM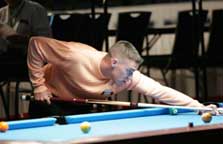 Deuel buried the 9 in the case game to put the U.S. through to the final 16.
At Matchroom Sport's World Cup of Pool in Rotterdam, Holland, the first match ended the way the U.S. team would have liked: They won. Everything else about the first-round thriller did not go exactly as planned for Rodney Morris and first-timer Corey Deuel.

Facing a sizeable underdog in Malta, the second-seeded Americans figured to coast past Tony Drago and Alex Borg. Instead, the U.S. tandem was pushed to the limit, needing a heroic run from down, 7-4, to win the hill-hill contest, 8-7.

The two men from Malta came out firing, running through the first rack in 90 seconds. Up 2-1, they again sprinted through the fourth rack, dropping the 9 just 64 seconds after the break.

Drago, who will face Morris in the Mosconi Cup, buried the 11th 9 ball of the match, putting Malta on the hill, 7-4. With a chance to run out, Borg could not pocket the 1. And, thanks to the winner-break format, he would not see the table again.

Deuel and Morris broke and ran the next three racks, edging Malta, 8-7. Drago and Borg, hugely entertaining for the packed house, faced a tough exit for the second straight year. (They were blanked last year against the Philippine powerhouse of Efren Reyes and Francisco Bustamante.)

The U.S. will face 15th-ranked Switzerland in the round of 16, scheduled for Friday at 8 p.m. local time.

In second-round play, Japan ensured there would not be a hometown winner by defeating the Holland A team of Niels Feijen and Nick Van den Berg, 8-7. In front of a raucous crowd at the Outland Nightclub in Rotterdam, the Japanese pairing of Satoshi Kawabata and Naoyuki Oi remained a step ahead of the Dutch boys, winning when the teams tied at 4-4, 5-5, 6-6 and finally 7-7.

The other second-round match went exactly as expected. Efren Reyes and Francisco Bustamante of the Philippines, last year's champions, blanked Croatia, 8-0. The only drama proved to be some friendly teasing with the Filipinos up, 6-0. Reyes left Bustamante out of position, but "Django" executed a ridiculous kick shot to put the 7 in the side.

Bustamante and Reyes await the winner of the France-China matchup.