Headstring News
U.S. Upset by Surprising Swiss in World Cup
Sep 28, 2007, 5:44 PM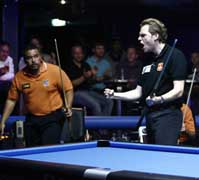 Rodney Morris and Corey Deuel watched the Swiss break and run the final 3 racks.
A night after escaping from a 7-4 deficit to Malta, the United States was knocked out of the World Cup of Pool. In the Outland Nightclub in Rotterdam, Holland, the Swiss pairing of Marco Tschudi and Dimitri Jungo came from behind to oust the Americans.

The U.S., considered one of the favorites to win the tournament, jumped out to an early 5-2 lead. The Swiss took the next two, then lost position midway through the 10th rack. Corey Deuel and Rodney Morris cleaned up for a 6-4 advantage.

After some safe play from both sides, the Swiss duo closed the gap to 6-5, then ran three and out to take the match, 8-5.

Switzerland, the 15th seed entering play, will play the Finnish pair of Mika Immonen and Markus Juva, that topped England, 8-5, to earn a spot in the quarterfinals.

In another huge upset, Taiwan dropped its second-round match to Belgium. Following the Swiss formula, the Belgians took the last four racks to come back from a 6-4 deficit. The third-seeded Taiwanese pair joined all of the top seven seeds, minus the Philippines, to fail to advance to the quarterfinals.

As a last minute replacement for the Malaysian team that withdrew, the lightly regard Belgians have more than proved they belong. They will face Canada in a quarterfinal match on Saturday, Sept. 29.

The Philippines, represented by Efren Reyes and Francisco Bustamante, are in great shape to repeat as champions. They will face the darkhorse Chinese team in the quarters. Singapore continued its surprise run by dominating the Austrians, 8-2, and will face Japan.