Headstring News
China Edges Finland in Thrilling World Cup Final
Oct 1, 2007, 11:00 AM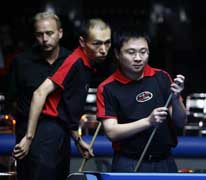 Fu Jian-bo and Li He-wen won the second World Cup of Pool in Rotterdam, Holland.
The Chinese team entered the PartyPoker.net World Cup of Pool as the eighth-ranked team, but exited as number one. China, represented by Li He-wen and Fu Jian-bo, survived a furious comeback from Mika Immonen and Markus Juva of Finland in the final, winning the tournament, 11-10.

In a bracket full of upsets, the Chinese team proved to the the highest-ranked nation to advance to the semifinals. They upset the top-seeded Philippines in the quarterfinals, 9-6. The United States, Taiwan, Germany and Holland all failed to advance to the quarterfinals.

The two biggest surprises of the tournament were Japan and Belgium. When Malaysia withdrew just weeks before the tournament, Belgium was selected as the replacement. They upset the Holland B team of Alex Lely and Rico Diks in the first round, 8-2, then sent the third-seeded Taiwan team packing, 8-6, taking the last four racks for a shocking come-from-behind victory.

Japan, who quickly became crowd favorites at the Outland Nightclub in Rotterdam, Holland, beat Spain, Holland A and Singapore to meet China in the semifinal. The always cheerful team of Naoyuki Oi and Satoshu Kawabata could not keep up with the Chinese, bowing out of the tournament, 9-4.

Finland more than made up for a second-round exit in the 2006 tournament. Immonen and Juva posted 8-5 wins over Qatar and England, then controlled Switzerland, 9-4, to coast into the semifinals. Amazingly, Finland didn't drop a single rack against Canada, punching their tickets to the final with a 9-0 shutout of Alain Martel and Edwin Montal.

In the final, China looked set to capture the title without much drama, getting on the hill, 10-6. Finland took the next two before Fu jarred a title-clinching 9. Li scratched in the next rack to let the Finns make it a hill-hill affair.

In the final rack, Juva decided against attempting a tricky 1-9 combination and played safe. The Chinese team squeezed in a 1-6 combination to regain control, running out the final rack to win the World Cup.